Open session cum- seminar on 'New Technology in Built Environment' on July 2, 2022 at Hotel Vivor, Kohima, Nagaland
Indian Buildings Congress, Nagaland Centre, in association with Nagaland, PWD, hosted the 2nd Executive Committee meeting of IBC and Open Session – Cum Seminar on 'New Technology in Built Environment' at hotel Vivor, Kohima from July 1 to 2, 2022.
Seminar:
The Open session-cum-seminar was inaugurated on 2nd July, 2022 by Shri Tongpang Ozukam, Hon'ble Minister Nagaland PWD (Housing & Mechanical), who was the Chief Guest of the function. Besides the Chief Guest Shri V.S.Verma, President, IBC; Shri Pradeep Mittal, Immediate Past President, IBC; Shri C.Debnath, Vice President; Shri K.C.Meena, Vice President; Ms. Kahuli Sema, E-in-C, NPWD & IBC Nagaland Chapter President; Shri I.Tiameren, CE, NPWD and Shri V.R.Bansal, Honorary Secretary, IBC were on the dais. Shri Toli Basar, CE (Retd.), Arunachal PWD; Shri K.L.Mohan Rao, EC member, Shri Hitendra Mehta, EC Member, Shri Abija Khing, special invitee and Er. Arifa Khanam Special invitee, Large number of IBC members, engineers, architects, contractors and professional involved in the building construction industry attended the seminar.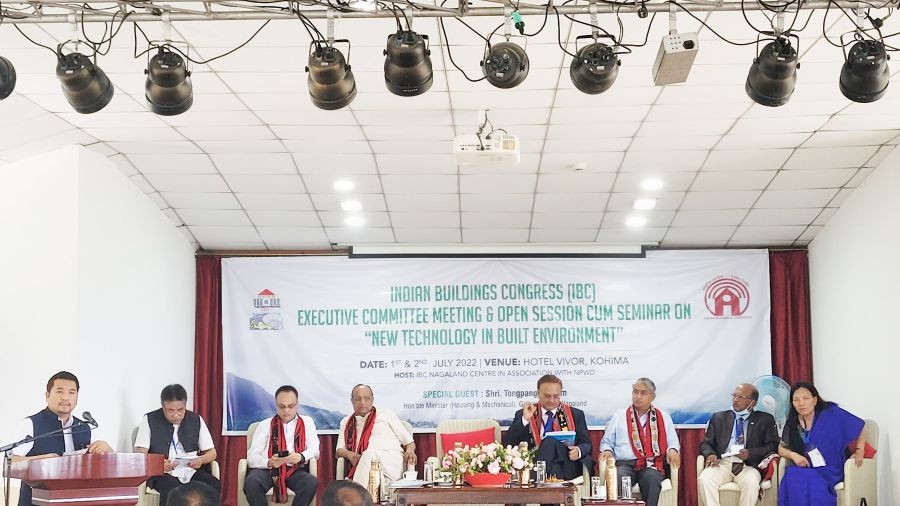 Shri Tongpang Ozukum, Hon'ble Minister Nagaland PWD (Housing & Mechanical) addressing the  Open Session-cum-seminar on 'New Technology in Built Environment' held at Hotel Vivor, Kohima on july- 2, 2022
The Seminar was chaired by Er I Tiameren, Chief Engineer, NPWD (H) and General Secretary IBC Nagaland Centre while Er Kahuli Sema, Engineer-In-Chief, NPWD and chairman IBC Nagaland Centre delivered welcome address.
Speaking on the occasion, the Chief Guest maintained that IBC has been contributing immensely towards building a living environment that is sustainable, affordable, aesthetic, eco-friendly, cost competitive and other technology driven built environments in the country. He said, by adopting such holistic approach in all our developmental aspects, the IBC can become a major contributor in our Nation Building.
He said that the advanced concrete technologies based construction being less time consuming, will minimize the environmental impact, reduce the cost of construction, will be more significant and will have more positive influence in a state like Nagaland. The Minister sought the IBC to guide the state with its expertise in supplementing state government efforts in developing a sustainable development strategy for creation of built environment in Nagaland. He hoped that IBC would encourage the builders in Nagaland to work towards improvement in Built Environment using new and advanced technologies.
He further said that advanced technologies can help sustainable,  faster and economical development  of the  available surplus land situated in urban prime areas  which is facing threats of encroachment, so as to create asset, generate revenue for the government and also to reclaim and protect the government land.
Shri V.S.Verma, President, IBC in his presidential address, while welcoming the Chief Guest, informed that the country requires 2.50 crores dwelling units by 2030. In coping up with such huge demand for housing and the corresponding infrastructure projects our Country is under severe pressure. Considering the need of sustainable rapid growth, focus has to be on systematized urbanisation and integrated development.  Use of new Technologies in Building Construction may solve these issues to certain extent. He therefore underlined the importance of modern technologies in engineering development which are being adopted for quality improvement, energy efficiency, faster construction leading to minimum wastage and minimum environmental pollution and ensuring occupants health and safety. He informed that use of construction materials having zero or low toxicity, high recyclability, durability, longevity and availability in local regions coupled with fast/rapid construction technologies producing zero/minimum waste is the necessity of the day. He also explained few advanced technologies being utilised. He invited all stake holders engaged in the field of built environment and students pursuing their technical course to enrol themselves as life member of IBC for getting benefitted and also to contribute professionally in its endeavour.
Shri Hitendra Mehta, Mehta & Associates LLP & E.C. Member, IBC, assisted by Shri Parag Bedmutha of M/s K P R Construction, Maharashtra gave a detailed presentation on six light house emerging technologies being used in six places in the country for construction of dwelling units.
Prefabricated Sandwich Panel System with Pre-Engineered Steel Structural System- In this system the EPS Cement Panels are manufactured at the factory in controlled condition, which are then dispatched to the site. The panels having tongue and groove are joint together for construction of the building
Monolithic Concrete Construction using Tunnel Formwork- In 'Tunnel Form' technology, concrete walls and slabs are cast in one go at site giving monolithic structure using high-precision, re-usable, room-sized, Steel forms or moulds called 'Tunnel Form'
Precast Concrete Construction System – In this system the individual precast components such as walls, slabs, stairs, column, beam etc, of building are manufactured in plant or casting yard in controlled conditions. The finished components are then transported to site, erected & installed.
Precast Concrete Construction System – 3D Volumetric- In this system solid precast concrete structural modules like room, toilet, kitchen, bathroom, stairs etc. & any combination of these are cast monolithically in Plant or Casting yard in a controlled condition. These Modules are transported, erected & installed using cranes and push-pull jacks and are integrated together in the form of complete building unit.
Light Gauge Steel Structural System & Pre-engineered Steel Structural System- This system uses factory made galvanized light gauge steel components. The components/sections are produced by cold forming method and assembled as panels at site forming structural steel framework upto G+3 building. LGSF is used in combination with pre-engineered steel structural system for buildings above G+3 for longevity, speedier construction, strength and resource efficiency.
PVC Stay In Place Formwork System- In this system PVC based polymer components serve as a permanent stay-in-place finished form-work for concrete walls. The formwork System being used acts as pre-finished walls requiring no plaster and can be constructed instantly. Once the structural frame and floor is installed and aligned, wall panels are fixed on decking floor. The pre-fabricated walling panels having provisions of holes for services conduits, are fixed along with the reinforcement & cavities inside the wall panels are filled with concrete. Upon instalment of wall panels, flooring and ceiling, the finishing work is executed.
 A presentation on Nagaland PWD was also made by Swedi Kiso, Executive Engineer, Youth Resources department.
Shri Pradeep Mittal, Immediate Past President, IBC also briefed about the IBC and its activities.
Er. Chinmay Debnath, Vice President, IBC summed up the programme while vote of thanks was proposed by Er VR Bansal, Honorary Secretary IBC.